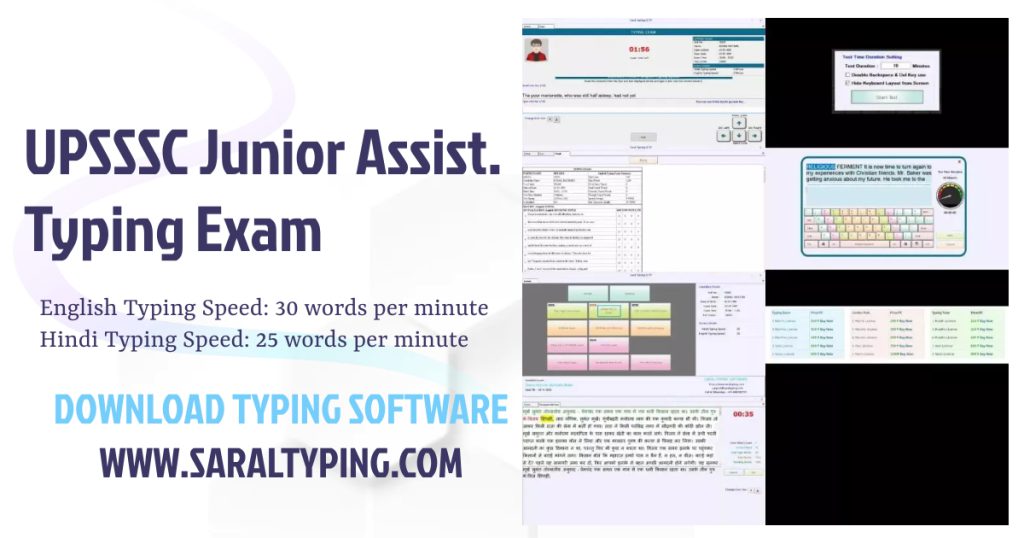 Introduction:
Welcome to a comprehensive guide on preparing for the UPSSSC Junior Assistant Typing Exam Typing Practice Software, powered by Saral Typing Software. Discover essential information about eligibility, syllabus, and salary details for this government exam, along with specialized typing practice tools to excel in the typing test. Hindi and English Typing Test
Eligibility Criteria for UPSSSC Junior Assistant:
To appear for the UPSSSC Junior Assistant Typing Exam, candidates need to fulfill the following eligibility criteria:
Education Qualification:
Candidates must have successfully completed the 10+2 Intermediate exam from a recognized board in India. In addition, they should possess the following typing speeds:
English Typing Speed: 30 words per minute
Hindi Typing Speed: 25 words per minute
Candidates are required to hold a CCC certificate from DOEACC or any equivalent certificate from a recognized institute.
Selection Process for Junior Assistant:
The selection process for the UPSSSC Junior Assistant Typing Exam involves the following stages:
I. Written Examination:
The written test consists of three subjects with a total of 130 questions and 65 marks:
Hindi Knowledge and Writing Ability (60 questions, 30 marks)
General Intelligence Test (30 questions, 15 marks)
General Knowledge (40 questions, 20 marks)
A negative marking of 1/4 marks applies, and a typing test in Hindi and English follows the written test.
II. Marks Based on Educational Qualification:
Candidates are awarded marks based on their educational qualifications, including achievements in the 12th standard, graduation in the 1st division, and skilled player accomplishments.
III. Hindi & English Typing Test:
A qualifying typing test is conducted in both Hindi (Mangal / Kruti Dev font) and English. This test is crucial for the success of candidates in the UPSSSC Junior Assistant exam.
Saral Typing Software for Typing Practice:
Prepare confidently for the typing test with Saral Typing Software. Our user-friendly platform offers:
Multi-language support including Hindi and English
Practice modules for Krutidev and Devlys10 typing layouts
Customizable typing exercises tailored to the UPSSSC Junior Assistant exam
Speed calculation in WPM (Words Per Minute) and CPM (Characters Per Minute)
Detailed performance analysis and progress tracking
Offline desktop application for convenient practice
UPSSSC Junior Assistant Salary after 7th Pay Commission:
Following the 7th Pay Commission, UPSSSC Junior Assistants enjoy an attractive salary package, including allowances such as DA, HRA, and TA. The total entry pay is approximately Rs. 21,700 along with allowances.
Prepare effectively for the UPSSSC Junior Assistant Typing Exam using Saral Typing Software. Equip yourself with the necessary skills and knowledge to succeed in this government exam and embark on a promising career path.